Senior Ashlyn Hilliard triumphs race in Round Rock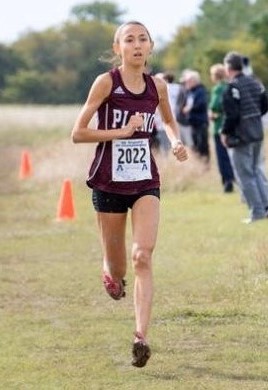 Ashlyn Hilliard conquered the state championship cross country race in Round Rock walking away as not only a school record holder for the 5k, but with a 6A State Champion title on her belt.
    Hilliard has been steadily working her way to becoming a champion since her sophomore  year, first placing 30th, her junior year placing third and now she stands at the top of the podium at first place, and there is no one more worthy of the title.
    "In my humble opinion, no one in the state is more deserving of everything [Hilliard] has accomplished," Coach Amy Dehdari said.
    Deserving doesn't even begin to describe the runner's qualifications. Hilliard's 'easy' workout includes a whopping 10 miles total; a six mile run at six in the morning, weight room in the afternoon and mile repeats after that. However, her hard days are something that most people cannot even fathom accomplishing, ending in a total of 11 miles, often times more.
    The state race itself is one of Hilliard's best, and the windy cold day outside of Austin is a day she will never forget. Being able to outrun some of Texas' best is an accomplishment in and of itself. Being a true competitor, Hilliard focused little on the things outside of her control and instead zoned in on the things that put her ahead of everyone else.
    Between the podiums, the pictures and the crowd, the pressure was definitely building. But, with no pressure there are no diamonds, and Hilliard is definitely shining.
    "Worrying about what they're going to run isn't going to change anything,"Hilliard said. "I just try to stay focused on myself and getting ready for race day."
    When it was finally time to race, there was little Hilliard could do but try her best to keep her legs fresh for the terrain ahead. Mile after mile, Hilliard pushed to come out on top, keeping her mind focused on the ultimate goal and ignoring the pain.
    "Each race is different. From start to finish the whole thing is up in the air. Ashlyn does an amazing job of understanding the environment around her," Dehdari said.   
    When finally crossing that finish line, everything suddenly snaps into perspective and the hard days and long miles are filled with a true purpose.
    "It's not just my win, but it's my coach's win, my teammate's win and my parent's win," Hilliard said.  "The feeling is indescribable, and I never would have thought in a million years that I would be a state champion."
    Having  run over 4,000 miles in her high school career, Hilliard has an intimidating reputation for any runner that dares compete with her and sets the bar astronomically high for any athlete that runs after her. The legacy that Hilliard will leave to the school is accomplishment enough, but a neck full of accolades does not hurt.
"I can say confidently that Ashlyn is the best runner that has come through the Plano district as a whole," Dehdari said.
       Even if cross country is not necessarily a team sport, Hilliard proves that no woman is an island and her teammates should be given praise for her success as well.
    "My teammates are the ones who have been through it all with me, leading me through all of the rough times," Hilliard said.
    Hilliard has given just as much to her team as they have given to her, excluding her outstanding wins, she provides postivitry on and off the field.
"Ashlyn is someone I have looked up to ever since joining the team," sophomore teammate Emma Smith said, "She really inspires all of us to be the best."     
     It will certainly be interesting to see what success Hilliard will seize in her future; especially having a full ride scholarship  to Colorado State University, whose cross country team is currently top 30 in the nation. She is the embodiment of Wildcat athletics with her spirit, devotion and undying hustle to the course.  No matter how tough the race gets whether it's mental or physical, Hilliard continues to strive for number one.
    "I am honestly just trying to be the best runner I can be, at any cost," she said.