Wildcat volleyball team digs deep into the playoffs
The Lady Wildcats volleyball team impressed with their farthest run in the playoffs
Hang on for a minute...we're trying to find some more stories you might like.
    Despite being underdogs, the Lady Wildcats volleyball team made their deepest playoff run in five years, however, their run came to an end against Prosper on Nov. 6 in the third round, losing in four sets.
    Senior co-captain Grace Glasscock thinks this season has been a success although the team lost in the third round.
    "I'm so proud of this team," Glasscock said. "We all pushed each other to get better."
    On Oct. 26, the team came back from a 2-1 deficit and defeated Boyd, clinching their seventh consecutive UIL playoff berth in five sets in a win-or-go-home match.
    Senior co-captains Julia Adams, Faith Panhans, and Glasscock performed well, with Adams leading the team in kills and Panhans having 22 digs. Glasscock only had 14 passes from serves, but led the team emotionally.  Junior Sophie Robinson had a good game, with two aces and 12 total blocks. The freshmen came out to play, with Naylani Feliciano neutralizing Boyd's attack with 21 digs and stopping the serve with 23 serve receive passes, Brooke Mchale advancing the offense with 12 kills and Trinidy Huynh leading the charge with 22 serves.
    By winning two straight sets against the Lady Broncos by scores of 25-16 and 20-18, the volleyball team showed resilience with their backs up against the wall.
    Glasscock believes that the team became a cohesive unit and knew they had to play for one another to achieve victory.
    "Winning against Boyd showed that all our hard work paid off," Glasscock said. "We achieved one of our main goals."
    Adams thinks the team sent a message to opposing teams by beating Boyd. They showed that they weren't down and out and were still playing.
    "We showed that we have the talent and the fight to beat Boyd," Adams said.
    Volleyball knew Boyd well, facing them three times this season, and winning in two of those matchups.
    Panhans determined the team bonding that occurred before the match worked wonders for the Lady Wildcats.
    "We had to come together and leave it all out there on the court," Panhans said.
    The UIL State Championships began on Oct. 30. For the first round, they were pitted against a higher ranked opponent in Wylie, who won 14 more games than the team. Volleyball knocked off the Lady Pirates, winning in four sets. The team played fantastic on both sides of the ball. Adams and Mchale drove the offense, combining for 66 percent of the team's kills and the defense was led by senior Evie Bordeaux and Feliciano with a joint total of 38 digs. Two consecutive first-round playoff exits propelled the Lady Wildcats to do whatever it took to win.
    "We wanted it more," Panhans said. "No one gave us a chance and we proved ourselves."
     On Nov. 2, volleyball faced Rockwall in the second round of the UIL State Championships. The Lady Yellowjackets were another team with a better record than the volleyball team, obtaining five more wins in the regular season than volleyball did. After losing the first set, the Lady Wildcats won three sets in a row, finishing off Rockwall in the last round by a score of 25-22. Wylie couldn't handle the volleyball team's serve, getting aced 13 times in four sets.
    "After the first round, the pressure was off of us," said Adams. "Winning against Wylie gave us confidence and we were much more comfortable afterward."
    On Nov. 6, the volleyball team had their toughest challenge yet, with a match against volleyball titan, Prosper. The Lady Eagles had only lost five games over the course of the season, defeating the volleyball team twice in the regular season by scores of 3-1 and 3-0. Volleyball battled with Prosper but lost the first set by only three points, but came back in the second set, winning by two points. In the third set, the Lady Wildcats kept it close, but couldn't come back and lost 25-20. Volleyball was now down to their final stand with their season on the line. Prosper proved to be too much to handle though, winning the fourth set by a score of 25-18. The volleyball team held their heads high because they had a fantastic season and showed that they could compete with the best by beating two better teams and contending with a top-tier team in the nation.
    "This season showed us that if we put our minds to it, we can give ourselves a shot to win every game," Glasscock said.
    For many of the seniors on the team, it didn't kick in until after the loss against Prosper that they had just played their last game playing volleyball for the Lady Wildcats.
    "I didn't realize it was over until we got on the bus after the game," Glasscock said. "It was emotional because we are all like family."
    Volleyball now looks to prepare for next season, and they will have to rebuild the team because six seniors on the team, five of which were starters are graduating. New co-captains will also have to be appointed because the three current co-captains are part of the graduating class of 2019. The co-captains hope that they have taught the girls what it takes to be a leader and a teammate.
    "Hopefully the younger players can continue volleyball's legacy," Panhans said.
    The overall theme for this volleyball season was resiliency. The team battled back from a slow start, came back and won an elimination match, upset two better teams, and fell to a top-ranked team despite a valiant effort. This season is over, but volleyball will look to start a trend of making deeper playoff runs next season. The Lady Wildcats' season of resiliency won't be forgotten.
    "This season has been one to remember," Glasscock said. "We won and lost together."

About the Contributor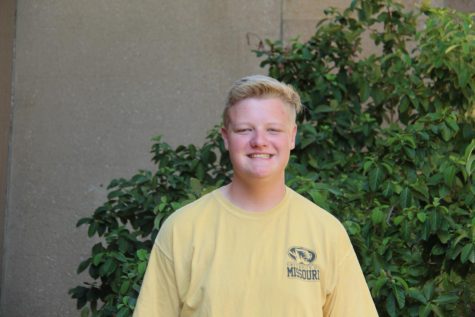 Tyler Luker, Co- Editor and Sports Editor
Tyler Luker is a Co-Editor, while also being the Sports Editor and Assistant Ad Manager of the Wildcat Tales. He enjoys watching sports and listening to...