March Madness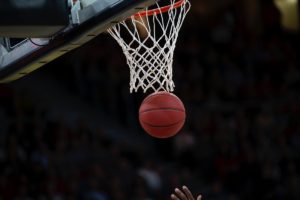 The NCAA March Madness series is a single-elimination tournament to determine the Men's college basketball national champion of the D1 Level. The 68 college teams compete in seven rounds for a shot at the title.
     The tournament's selection day was held on March 12 and the First Four game began on March 14. Next, was the First and Second Round which took place from March 16-19. Following those games were the Sweet 16, Elite Eight and the Final Four, taking place from March 23 to April 1. Ending with the NCAA Championship Game on April 3.
     "I feel that making brackets makes the tournament more entertaining because nobody wants a bad bracket," junior Trent Gregorash said. "It's so exciting this year since a lot of the higher-ranked teams are losing to teams I had never even heard of."
    The most recent round of the series has been the Elite Eight, with Creighton vs. San Diego State, Florida Atlantic vs. Kansas State, Miami vs. Texas and UConn vs. Gonzaga. The round had a large number of upsets sending home the top three teams. 
     "The championship drought for No. 1 overall seeds in the men's NCAA Tournament will extend another year after No. 5 seed San Diego State in a Sweet 16 stunner sent top-seeded Alabama packing in a 71-64 upset Friday night," CBS reporter Kyle Boone said.
     Now that the Elite Eight has finished, the Final Four begins with Florida Atlantic University vs. San Diego State and the University of Miami vs. UConn. 
     "What makes March Madness so entertaining is there is always a big upset," senior Nikk Williams said. "My favorite to win it all was Alabama, but they just lost so I guess I have San Diego State."
     The NCAA Championship game is coming up fast on April 3 as the suspense rises to see who's going to go all the way.