The spirit of Plano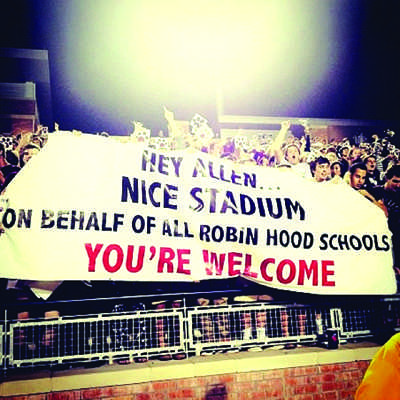 The student section is filled and banners flutter in the nighttime air. No matter the weather, students come out with paw signs and maroon shirts to support their peers.
     Senior Varqa Azimi sees the school as much more than just a place to learn.
     "To me, Plano means family," Azimi said. "Always getting together to support all the teams, and letting them know that we're there for them and proud of them."
     Part of the tradition comes from students who have siblings who went through the school. Senior Mitchell Johnson, known as "Little Mitch", had an older brother who graduated five years ago.
     "Everyone's gone to the games throughout their whole lives and knowing that you're going to go there after your brother is pretty cool," Johnson said.
     During football season, Azimi said the pep rallies got the spirit going on Friday nights and students would go all out.
     "I would see everyone excited and pumped up," Azimi said. "The mamacitas and the papacitas would be there, and everyone would be painted.  We would all be there to support one another and support the family. That's what makes Plano so awesome, all the pride."  
     For senior Casey Clark, school pride is about more than just him. It's about encouraging others as well.
       "I like to show others what Plano's all about," Clark said. "I just try to get pumped in front of people. At the games I will get the chants going or at school I will walk up and act really excited to someone and they will automatically get excited off of my personality."
     Azimi recalled how the games this year united the student body.
     "I felt Plano was one unit altogether when I was at the West game," Azimi said. "It was such a close game. I ended up talking to the players after the game, and even though we lost, it brought the school together."     
     Azimi went to the district playoffs in Dallas to encourage the varsity football team while they played their opponent, Skyline.    
     "We all rode on the Dart together and when we got to the stadium we started chanting 'I believe that we will win'," Azimi said. "I remember how we supported the team when we won or lost, we were still proud of the players."
     Clark believes the school is dependent on the few proud students here to keep the spirit alive.
     "It depends on what kind of people you have to get the pride going," Clark said. "If there was no one to spark the pride then it would not be as much here. The fact that we have some people this year that get the crowd going and try to get everyone to the games this year, that makes the pride solid."
     The incoming juniors are continuing a legacy, one which Clark would like them to value.
     "They just need to realize how lucky we are to have the tradition that we have," Clark said. "Make sure to keep it going no matter what and always support the people that are representing our school." 
     For Clark, graduating is a bittersweet experience. Though he looks forward to college, he realizes that he is leaving behind all the things Plano has given him over the years.
     "I love it here so much," Clark said. "I would say the worst part is I am not going to see half the people that I know after this year. I am going to Texas A&M. The thing about A&M is it is 100 percent about tradition so I think I will fit in well there because that is why I love Plano. It is because of all the tradition and spirit we have."
     Azimi is also leaving, and he feels his high school experience has been better than most.
    "Plano this past year and half has been amazing," Azimi said. "Honestly, I can say I am going to miss it and all the friends I have made. It is going to be hard in college, not cheering on your best friend on the field. It's going to be different, but the Wildcat family will always be there for me."