Students meet with Superintendent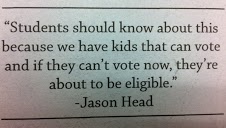 Once a month, right after the third period bell, four select students car pool to the PISD Administration Building on 15th Street to discuss ongoing updates and activities present within the school district. Seniors Avery Atterstrom and Taylor Chambers and juniors Jason Head and Hudson Kuykendall meet with eight other designated representatives from Plano East and Plano West, the District Associate Superintendents and the Superintendent of Schools, Richard Matkin.
Each year a maximum of four students are selected by Principal Watkins. Atterstrom and Chambers were selected their junior year and are returning to participate during their senior year. They attended Superintendent's Council with former seniors Jourdan Escobar and Matt Hintz.
"It's different than last year because I was a junior and didn't know how anything worked," Atterstrom said. "I was really shy and quiet and didn't know what to say. This year I am a bit more comfortable because I know Mr. Matkins and I know all the seniors returning from last year."
As to the selection of the representatives, none of the members are quite sure why they were chosen. All they have are their best guesses. Atterstrom believes somebody must have seen some potential in her and said that she was grateful because Superintendent's Council has been a once in a lifetime opportunity. Head's assumption about his selection is similar to Atterstrom's – its all about catching someone's eye.
"I think running for Junior Class President helped," Head said. "Being involved in Student Congress and letting people know that I really want to do a lot to help the school probably made people aware of me, and really affected the selection process."
The monthly meetings begin with each student selecting one of the lunches provided for the council members that day. According to Atterstrom the choices change each time and are usually box lunches from restaurants such as Jason's Deli, Dickey's or Cane's. Once every member is seated around the circular meeting table, the representatives from each school will provide updates on events that have occurred over the past month at their school. In addition to these updates, Superintendent Matkin provides information on district happenings.
At the first meeting of this school year, Superintendent Matkin showed a short video concerning the tax ratification that will be voted on in November.
"It was a really big matter that I hadn't heard much about," Head said. "Students should know about this because we have kids that can vote and if they can't vote now, they're about to be eligible to vote. So it's very important for them to understand what's going on."
Another hot topic of discussion has been the academies. The Superintendent's Council frequently discussed the new schools and played a role in the details of some aspects of its operation.
"Last year we talked about things like bell schedules and the overall structure of the academies," Atterstrom said. "We visited one, but at the time it was completely under construction. I think we're going to go again this year and get to actually see the kids engaging in classroom activities. It's going to be really interesting to see how our input has affected the school."
Atterstrom and Head both see Superintendent's Council as a valuable time to get important ideas and issues across. Once a year they have an extra-long meeting where representatives talk about everything they believe is going well in the district, everything not going well and everything they want to see in the future. Students from the nine and ten schools are even brought to give further input and information. Head has not sat through this special meeting yet, but Atterstrom said she made sure to bring up what she thought needed work on and what she thought was really positive about the district.
"One really strong note I stressed was that our teachers are very well informed," Atterstrom said. "Every teacher I've had in Plano has known what they're talking about and they're always willing to help out and be very flexible with their schedules. It's a really good and valuable thing to have."
In addition to the positives of the school district Atterstrom also spoke about some of the serious issues that need work, such as the reliability of myPISD. At the council's next meeting on Oct. 17 Matkin is scheduled to discuss this issue.
Atterstrom and Head both agreed that the best thing about Superintendent's Council was being able to incorporate ideas that other schools are doing within their own school.
"You can kind of swap ideas and bounce things off of East and West," Atterstrom said. "It's really nice to hear what they're doing around their school and hear how they're helping out a certain organization so we can learn how we can do something similar. Superintendent's Council really allows you to hear what's going on in the city instead of just being completely surrounded by the Plano Senior bubble."
First and foremost, Superintendent's Council will always be about the entire school – not just the four students that have the privilege to go.
"It's a great program," Head said. "It's not just the four of us that go, it's the whole school. That's who we're representing. If there are things that students want to know or have questions about they should feel free to contact us. Being able to meet directly with the Superintendent can do a lot of things and really make a difference."