Agricultural Mechanics course encourages DIY mindset among students
Agricultural Mechanics is a course that teaches welding and wood working skills. The class is designed for the student to decide what they want to build, from a cattle guard to a boot scraper designed to look like a bear trap.
Teacher Joe Molina said he has a passion for teaching Ag Mechanics.
"Ag Mechanics is about making any projects the kids really want to make after they learn the basics," Molina said. "I personally think it's the coolest class the school has to offer."
According to Molina, his passion for Ag Mechanics began when he was in the Marine Corps.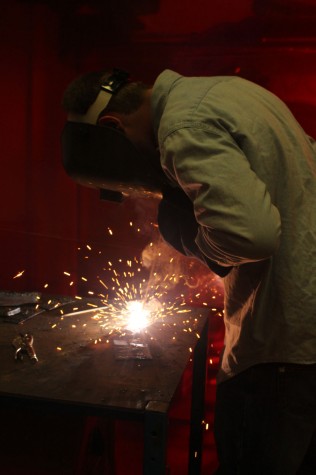 "I worked with mechanical helicopters," Molina said. "When I got out I was a work center supervisor, supervising other people and teaching them different skills. I took the mechanical skills I learned in the Marine Corp with my leadership skills, my teaching skills and kind of fused them into a job that was basically my dream job."
Ag Mechanics is a class primarily driven by the students and what they want to build.
"Once we learn the basics, we kind of turn it over to the kids," Molina said. "We'll figure out how we want to make it happen. They get to chose, they tailor it to themselves by making things they would enjoy."
Allowing students to tailor the course to themselves, the result is original ideas and creative projects.
"We have a few pretty cool projects going on," Molina said. "For example, a kid is making a chair out of wood that is going to fold up into a brief case."
Junior Kristina Gamache is currently taking the course. For Ag Mechanics students with extra time, there are repairs around the school they can sometimes help with.
"When a desk breaks, they take them to the shop. Mr. Molina, and sometimes some of the students with spare time, fix them," Gamache said. "It goes the same with all the broken stuff, like there is a drain cover they want Mr. Molina to weld together."
Ag Mechanics is a semester long course, which some students feel is not enough time to complete enough projects and learn as much as they desire .
"It needs to be a year long class because the shop is so small half of us have to go to metal and half of us have to go to wood," Gamache said." But there is very little time for us to actually be able to work with both."
This semester long course will give students the basic skills to go in to the future.
"These are jobs that you can do without a college degree," Molina said. "These are skills that you can take into the workforce right after high school and start working with. That happens a lot after Agricultural Mechanic classes. People have never been exposed to these things, especially the welding equipment, and they find they have skill at it."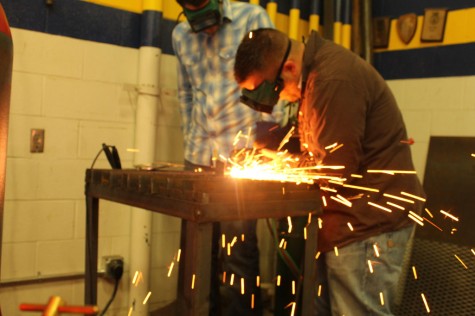 According to Molina, even when a student struggles with other classes, they can still thrive in Ag Mechanics and build things that interest them.
"Last year I did have a couple of students that weren't really too successful in their other classes, because everybody learns a little bit different," Molina said. "In this class they were able to flourish and actually build projects because their brains are wired that way."
Ag Mechanics has competitions each year to test their skills against other schools. The first competition is the Country Agricultural Mechanics show in the second week of January. In February,  Ag Mechanics will go to San Antonio to compete.
"We basically compete with what projects we make versus other projects made throughout the county and the state," Molina said. "In spring, the Ag Mechanics competition team takes a test over Ag Mechanic skills and compete against 136 other schools from all around the area. We came in fourth in the area and missed going to state by 5 points last year. Two of the members on that team were girls that didn't know a single thing about any Agriculture Mechanics at the beginning of the year."
According to Gamache, students may sell their projects at competitions.
"There are guys who go around looking for inventions kids are making," Gamache said. "You could have the blueprints for your project with the dimensions. You sell your prototype or your project, to who ever wants to buy it, with the blueprints. Then, they can take it and produce it. "