Doing the dirty work: Future technicians discuss careers in cars
Their hands are covered in grease, their clothes are stained and they reek of oil. This is what it is like to be a auto technician.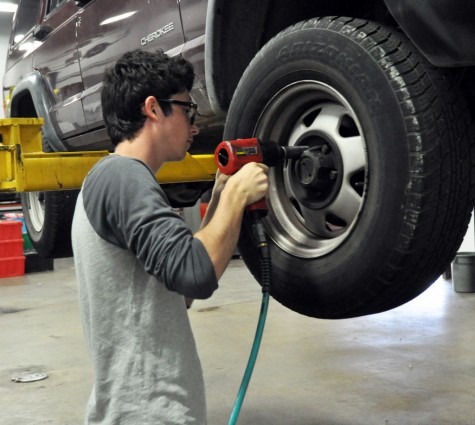 Senior Alec Schlemmer wants to be a technician and said that he has enjoyed working with cars since he was a kid. He is currently in Auto Tech, a class that allows students to experience what it is like to diagnose a car's problem and fix it up.
"I think cars are fun to work on," Schlemmer said. "Putting it all together and seeing the parts function correctly after I fix it is my favorite part."
Senior Kristian Smith also wants to be a technician after high school. Although he is currently taking Auto Collision, a class which focuses on aligning the outer beauty look of the car, he still enjoys fixing up cars.
"I enjoy being able to take something completely distressed and make it into something beautiful," Smith said.
Smith has been surrounded by broken and repaired vehicles his whole life because of his father.
"My dad used to work on cars and ever since then, it has stuck with me," Smith said. "I want to take that and make something of it with my life."
Technicians earn a certification while working in the car industry. The Automotive Service Excellence is the professional certificate that allows auto repair shops to be located in America and Canada. With possible secondary education and a certificate, technicians can experience higher pay and numerous opportunities.
"The main job of a technician is to diagnose and repair customer vehicles," Auto Tech teacher Robert Watson said. "It's a very technical, high-skilled, problem solving job."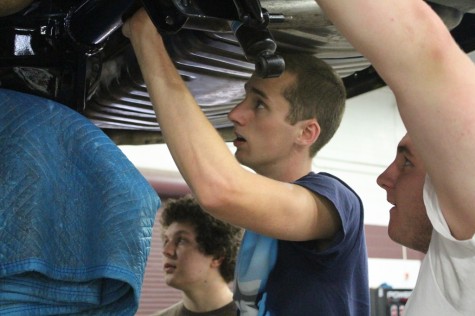 Senior Alekx Van Kooijk, who took Auto Tech last year, said he enjoys getting involved and discovering new things about cars.
"My favorite part is being able to get my hands all dirty and all greasy," Van Kooijk said. "I go online and read more about it often."
Much like Smith, senior Tanner Philips was also raised constantly around his family fixing up cars. He took Auto Collision 1 last year and is currently in Advanced Auto Collision. According to Philips, working on cars is more of a passion for him than an actual job.
"I grew up around cars," Philips said. "I have a family history of technicians and it's more of a stress reliever for me."
Like the Apple Care store for iPhones, technician auto repair stores exist for automobiles.
"Technicians carry a job that will be needed for reasons that include cars being around for a long time," Philips said. "Many people nowadays don't care to have the knowledge to work on their car themselves, so they pay technicians to do it."
In just half a year, these seniors will be crossing the stage and going their separate ways to follow their passion for cars.
"Cars are my life," Philips said. "I'm honestly willing to tattoo my car on my body."