What dreams are made of: Spring trips a welcome sight for students
After a semester with fewer planned breaks from school compared to past years, Planoettes and debate students look forward to spring trips with their teams.
Junior Zachary Kolodny said that getting a break from his duties at school on a recent debate trip to San Antonio was relieving and made the trip that much more enjoyable.
"School is always hard on me academically so it's more than relieving to get a break," Koldony said. "Class trips only affected my school work slightly, and the fact that it's during school makes the trip much more exciting. Going to San Antonio with speech and debate was a nice and relieving getaway, especially since the passing of fellow student Evan Johnson."
Junior Planoette Midori Anderson thought otherwise as the make-up work has been overwhelming for her.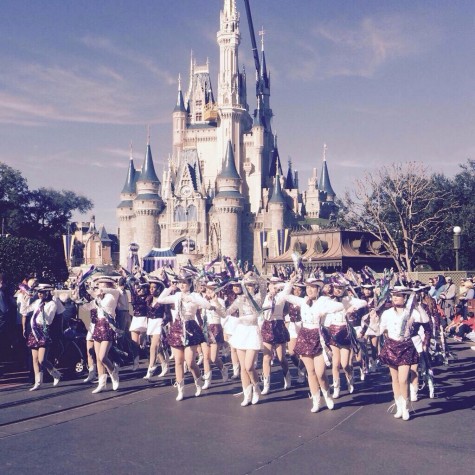 "Planoettes recently went to Disney World," Anderson said. "I've never gone on any class trips so this was my first one. Being on the trip totally messed with my school work, missing 2 days in high school is not good. I missed about 3 tests and a comp check in Algebra 2, so that became overwhelming"
Although the workload can get intense sometimes, that didn't make Anderson any less excited about Disney.
"It was so relieving getting a break from school," Anderson said. "It was also nice to not have to worry about what I was going to wear the next day or what homework I have to do. All I had to worry about was which Mickey ears I'll wear."
Although there were many sights to see at Disney World, the Planoettes had an agenda for which events they could attend.
"The reason the Planoettes went to Disney World was to march in the parade at Magic Kingdom," Anderson said. "We marched in the pre-parade. Our team went to Disney World, specifically Hollywood Studios, Magic Kingdom, Animal Kingdom, and Universal Studios in Orlando which was a dream."
As far as debate goes, Kolodny said he was excited for the speech team's future travel plans.
"
These are memories I will never forget, and I will cherish them forever."
— Kate Cartweight, junior
"Debate's going to Boston, which is going to be fun," Kolodny said. "We get to compete at Harvard, actually, so that's going to be amazing because I've never visited Harvard before and I've always wanted to be on it's campus."
Fellow Planoette junior Kate Cartwright said that Disney World held memories that will last a lifetime.
"It was a wonderful experience, from marching in the parade down Main Street, to our beds that lit up in our hotel rooms," Cartwright said. "The atmosphere at Disney World is so carefree and happy, and then to get to experience it with your best friends and fellow teammates is the best. A lot of laughter occurred and of course screams on the wild rides. These are memories I will never forget, and I will cherish them forever."
According to Anderson, class trips go as well as the students want them to.
"Class trips are a lot of fun if you go with the right people," Anderson said. "I love my team and I couldn't have been more glad that I got to experience Disney with them. It's all about the experiences and the memories you make there."