Feeding the fire: Scientist develops formula to predict wildfire outbreaks
As politicians, scientists, and everyday people continue to debate the legitimacy of global warming and the dangers it may pose, junior Vishal Rajesh is using his brainpower to resolve a current consequence of it.
Rajesh, a member of the LASER club, is the designer of two mathematical models whose purpose is to accurately predict the future outbreak of wildfires.
"My project was created in order to prevent the detrimental environmental effects of the spread of wildfires," Rajesh said. "Effectively predicting future outbreaks of wildfires can save the government money in addition to saving the lives of firefighters given certain environmental conditions."
The project, entitled "Fire Fighting at Work: A Simulation of Envelope Fire Fronts and Locational Fuel Treatment", was completed using verified information from government sources.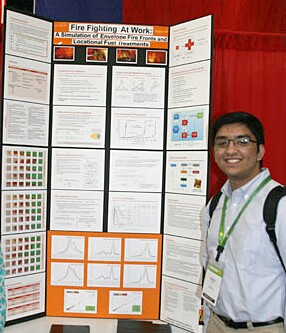 "The two models were optimized using official data from the National Oceanic and Atmospheric Association," Rajesh said. "To design them, I incorporated the locational fuel treatment of cellular automata and differential inclusions."
Locational fuel treatment describes the areas treated to remove possible sources of fuel for wildfires. Rajesh used fire retardant to reduce flammability and delay combustion in his experiment. Cellular automata is a computer visual of cells in a grid during stages of a wildfire life cycle, which helped Rajesh develop his complex algorithms to model the spread of the programmed fire.
"Mathematical models are already being implemented to study fire dynamics and prevention techniques," Rajesh said. "So I wondered if I could realize an underlying mathematical nature behind the spread of wildfires and whether or not it could be modeled."
To develop the formula, Rajesh used multifunction equations called differential inclusions to determine solutions for each algorithm and reflect which one is most accurate. His work has earned him high praise at science competitions on both the regional and national level, most recently winning grand prize in the physical sciences category at the Dallas Regional Science and Engineering Fair. He and his partner, Nisha Rajesh, will move on to the Intel International Science and Engineering Fair in May.
"With this project, I placed fifth at the Exxon Mobil Texas Science and Engineering Fair, and earned the Mu Alpha Theta Special Award for Outstanding Use of Mathematics from the Mu Alpha Theta mathematics honor society," Rajesh said. "In addition, I was a gold medalist at the International Sustainable World for Energy, Environment, and Engineering Project science fair competition for high school students."
Rajesh has dedicated the vast majority of his recent free time to working on his experiment in order to earn these recognitions.
"A substantial amount of work was put into this project," Rajesh said. "I believe that over the course of three months, I put in approximately 150 hours of work to complete the project from start to finish."
Rajesh had his inspiration for the project after learning of the devastating impact of wildfires in the United States. 
"
I believe that over the course of three months, I put in approximately 150 hours of work to complete the project from start to finish."
— Junior Vishal Rajesh
"Wildfires are a growing problem in the United States," Rajesh said. "Approximately four to five million acres of land are burned each year because of them."
Texas has also been greatly impacted by wildfires in recent years, with a 2011 outbreak resulting in a record-breaking 3.7 million acres burned statewide. 
"I am currently reaching out to the Texas Fire Marshall to garner support for my model," Rajesh said. "I will continue to make further improvements to it as well after introducing it to the fire marshall."
Rajesh's main objective for the experiment lies in improving the methods of fighting wildfires by analyzing areas where wildfires would be most likely to occur.
"Primarily, my goal is to use my two distinct methods to study the spread of fire while improving them with government statistics" Rajesh said. "I can then determine which model possesses better potential based on efficiency and accuracy and can help fight wildfires."
Disclaimer: All data, findings, and information gathered by this project are the intellectual property of Vishal Rajesh and the reuse of this project or any of the information or images associated with it without the permission of Vishal Rajesh is prohibited.