Babysitting blues: Students discuss working in child care
The word babysitting has become an umbrella term describing several different jobs relating to childcare. As teenagers gain more experience, their babysitting jobs become more and more complex. Yet the basic need remains — when parents need someone to watch their little ones they tend to hire teenagers anxious for more responsibility.
Senior Brenna Stueve has been babysitting since she was 12. She first began her babysitting career by watching her mom's friend's children, Luke and Nathan. She said she believes her care was important to help them develop.
"I was excited to see them grow up," Stueve said. "They are cute kids. It is nice because I was there when they started walking, talking and going through school. I helped teach them and still babysit them about once a month."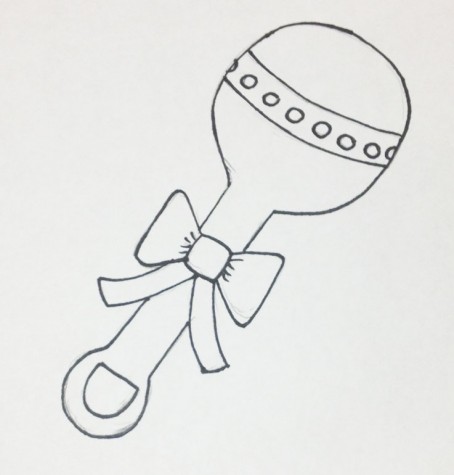 Last year while babysitting, Stueve took a tumble down the stairs during a game of hide and seek. When she cried for help, the children thought she was joking and continued playing. Stueve took this moment as an opportunity to learn to adapt to the children she is babysitting.
"Since I'm not a rowdy person and they wrestle and shout I just have to understand that I can't stop them," Stueve said. "I play around them and let them roughhouse a little but I have to keep them on a schedule."
Last year, Stueve applied for a position as a nanny. Although she did not get the job, she learned a lot about how important it is to make a connection with those you are babysitting.
"During the trial run with the daughter I learned she wasn't comfortable with me because she didn't know me," Stueve said. "So they hired someone more familiar. It was an eye opener and helped me realize why I am babysitting."
Senior Katie Pyle has been babysitting on-and-off for five years. She mostly babysits for her cousins and these visits strengthen their ties.
"I really enjoy having them look up to me," Pyle said. "We have really grown closer over the years."
According to Stueve, the majority of babysitters are teenagers, which is important for both the child and babysitter. She believes that helping them out leads to more wisdom when she grows up. 
"
I really enjoy having them look up to me."
— Senior Katie Pyle
"It gives us some experience for when you are older," Stueve said. "Knowing how to take care of infants and children is important for me so I know what to do when that time comes."
Pyle believes a large part of babysitting is being mature enough to be ready to care for the child's well-being.
"I get a lot of responsibility," Pyle said. "Taking care of children takes a lot of patience. I do not feel too nervous when I babysit because they are usually pretty good kids, so I don't have to worry about punishing them."
Junior Kristiana Camacho-Miles has been babysitting at her church for six years. She watches nine two-year-olds and is hands on and active with them. She believes a good babysitter must strongly participate in the child's activities.
"It is difficult to always interact with the kids," Miles said. "But it's a great experience and is fulfilling every time."