Beneath the harsh truth: Juniors unveil upcoming clothing line
Mari Brown, Staff Writer & Featured Columnist
February 26, 2015
Thoughts of homework and weekend activities flood the mind of some students, but junior Mark Gaines's mind is overflowing with ideas for his upcoming clothing line called "Harsh Truth." Gaines has paired up with his friends junior Jared Bordeaux, who specializes in graphic design, and junior Noley Dunlap, who specializes as a sketch artist, in order to complete this project.
"I started this last year, but I came up with idea freshman year and only recently hooked up with Noley and Jared," Gaines said. "It's more about fun clothes — something you can just chill in, like t-shirts and hoodies. I just really like clothes."
Dunlap said her experience in art class has helped her with the sketching process.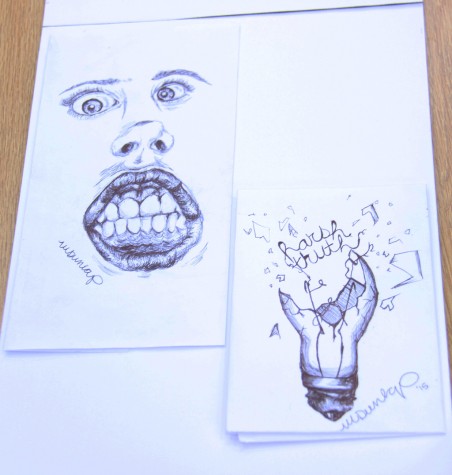 "It was just a random thing, it wasn't really planned," Dunlap said. "He just asked me, 'can you make some really cool sketches that have to do with harsh truth?' I told him that made no sense, but I'm trying."
There isn't a set date for when the shirts will be done and sold, but they have started getting the word out on social media, mostly through Twitter. Sketch artist Dunlap has completed three designs out of the six sketches she will be doing.
"I started designing them last month, so it hasn't been very long, but we will be done definitely before Spring Break," Dunlap said. "There's not really a time frame — he just wants them to be as good as they can be."
Harsh and truth have their own definitions that can be found in any dictionary, but according to Gaines, the line's name has a meaning to it beyond the words itself.
"I heard the name in a song and put my own meaning behind it," Gaines said. "When I think about the harsh truth, the phrasing of those words, I just think about how the things you don't want to do will sometimes help you in the long run."
For Dunlap, however, with little to go on when it came to the interpretation of Harsh Truth, she came up with her own meaning while sketching the designs.
"I kind of broke up the name, for example with 'harsh,' I thought about how something harsh is usually very truthful," Dunlap said. "The truth comes out even though it doesn't want to come out sometimes."