Choir to take trip to New Orleans
Over these past few weeks, all of the different choir groups have trained for the University Interscholastic League contests. On April 16, choir will celebrate the end of this competition season with a group trip under the supervision of director Derrick Brookins to New Orleans where, along with sightseeing, they will perform.
"This year, we've chosen New Orleans and we're performing at the world-famous St.Louis Cathedral," Brookins said. "It gives them a once-in-a-lifetime opportunity to perform in front of many different communities and sing at a prestigious venue like that."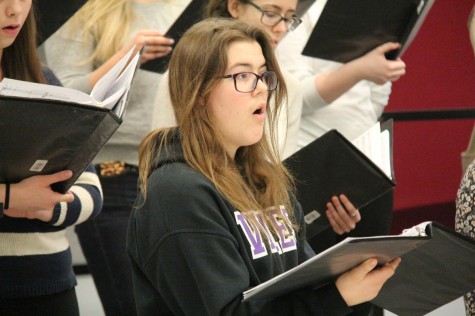 Junior Danielle Dewese has participated in choir since the sixth grade and this year is a member of the varsity women's a capella choir.
"This year has taught me that it's okay to mess up," Dewese said. "Around this time of year we do a lot more individual singing too so a lot of people, including myself, get nervous. There's a family atmosphere, though, so for us it feels a lot better to mess up in front of your family."
Choir has after school practices along with their daily rehearsals for many of their events, including UIL, spring and fall concerts.
"I think we're almost there as far as being ready," Brookins said. "But there's still things to perfect. Part of the reason we do competitions and go on trips, such as New Orleans, is to expose the children to different levels of performance."
Though several of the different groups have competed and received their ratings at UIL, there's still anticipation in the air for the experiences they'll have not only performing, but seeing the city.
"I'm hoping they take in the culture," Brookins said. "It's an opportunity for them to see a different lifestyle outside of Plano."