Hello again, Dolly
Theatre Productions says hello again to Dolly as they prepare for their performance in Fair Park for the Dallas Summer Musicals Awards, for which they were one of nine schools nominated for Best Musical. The performance will take place on April 29 at 7 p.m. and tickets can be purchased online.
Schools have to enter into the DSM event At the beginning of the school year to compete. This year, around 70 high schools in the DFW metroplex competed. Between three and four judges attend the Saturday shows of schools that entered throughout the year, and they rank and nominate the shows for awards depending on factors like acting, music, and set design. At the awards ceremony, individuals and casts are presented with awards from different categories.
Senior Taylor Stammen, who portrayed Dolly in the show, said she is very excited to be able to perform at the event.
"DSM sees shows year round and also brings a lot of shows to their main stage theater in Dallas," Stammen said. "They really support young kids and their interests in musical theater and the host a lot of cool events. They're good about keeping kids who like the industry involved when they're pretty young."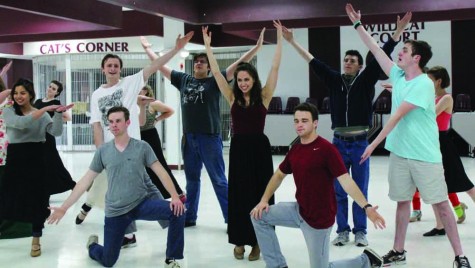 Rehearsals for the original performances of "Hello Dolly" began at the end of October, were held over the course of a few months and required a lot of time and dedication, according to junior actor Eric Hamilton who portrays the role of Stanley, the waiter.
"Rehearsals occurred about four to six times a week," Hamilton said. "They were busy, punctual and productive. Although we would run the entire show for the majority of the rehearsals, we would also have separate rehearsals for music, dance, acting and tech. In the early dance rehearsals, I remember getting home and lacking the motivation to move my sore, tired body."
Throughout the production process of the show, there was one scene in particular that each interviewee said stands out as one that they are proud to have overcome as a team.
"There's one number that's really dance heavy, especially for the guys," Dillon said. "It was 'Hello, Dolly.' We worked on that before we even started rehearsals, and it was really hard for these guys to get it. They hadn't had a whole lot of dance experience and it was a hard song. But they worked after rehearsals, they would stay late, they worked on weekends and that was so impressive to watch. The week that we opened was really exciting, because they really helped everything come together so well."
Producing shows isn't always easy, according to Hamilton.

"A couple of weeks before the show, we were tired," Hamilton said. "We began to fall into a rut of going through the motions, and it felt like we weren't giving our all. Luckily, Mr. Morse broke us of that, and we knew that the show was going to be something special."
It was, according to senior actor Tanner Dillon. Nominated by DSM for Best Actor, Dillon played Cornelius Hackl in the show.
"Once we found out we got nominated, we went back to the music and found out what excerpts we were going to do," Dillon said. "We don't get to perform the whole thing. It can be one song or a medley of songs from the show, so we're doing a medley of songs. It's only about three minutes long, so we are re-choreographing that and working on the music right now." 
"
We're going to do our best for everyone and want everyone that comes out to be proud of the show.
— Taylor Stammen, senior
The night of the performance at Fair Park, the cast is allowed 30 minutes on the stage to rehearse their piece. It will be the only time they have to prepare on that stage.
"The show that night is televised," Stammen said. "It's kind of nerve-wracking, but I think the coolest part is performing at Fair Park. That venue is going to make us feel so talented and even powerful, almost. It's a bigger stage too, so once we get used to it, it will give us a lot of confidence."
The winners of the event are predetermined before the students perform, which makes the opportunity to perform at Fair Park seem like an honor, according to Stammen.
"We're going to do our best for everyone and want everyone that comes out to be proud of the show," Stammen said. "It's been fun so far. I don't want to say we're going to walk out with a trophy, but if we don't win, I want everyone to go, 'Wow, I'm shocked.' I would really like feedback from judges and audience members to say, 'Wow, you guys killed it.'"
Stammen, Hamilton and Dillon all said the most rewarding part of performing is the applause at the end of each show.
"The applause makes everything great," Hamilton said. "It doesn't matter if you've had a bad day, or a bad week, or a bad month, because the applause makes you know that you're doing something right and that people acknowledge it. And maybe you've helped someone else to forget his or her bad day, or bad week, or bad month. And that's what it's all about — bringing joy to those who need it."