Choir's big Broadway finale
On May 19, choir will debut its spring show at 7:30 p.m. With Broadway as the theme, the performance will feature medleys from "Wicked" and "Jersey Boys," as well as solos and other group performances.
Compared to the classical show the choir puts on in the fall, the spring show is more modern, according to senior Dylan Chan. He welcomes the change.
"While the fall show fun, it's cool to shift gears in the spring," Chan said. "It's more of a family show– it's really interactive and has more familiar songs."
After winning sweepstakes at their UIL competition in late March, the choir immediately began rehearsals for the upcoming show.
"We rehearse every day during our choir class," Ehling said. "The transition was totally easy, we were able to let loose and have to fun without any pressure."
Mulliqi said it was easy to stay focused in choir.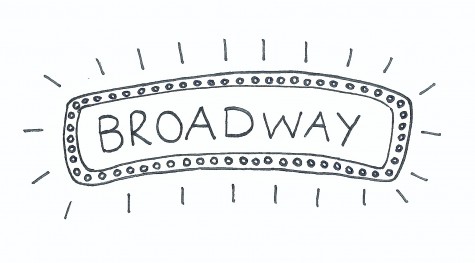 "At this time of year, most of us are incredibly worn out and ready for summer to start," Mulliqi said. "Despite this, choir is kind of a safe haven where we're all ready to have a good time and work together. We use all of our energy built up for summer to prepare an awesome spring show."
Unlike the fall show, this performance has added choreography. To Chan, the movement is what keeps the show so interactive.
"We're going to be in the risers and even on the stage floor doing it all," Chan said. "You can only fit so many people on the risers and have them dance, so we're going to have to be pretty spread out."
One of the pieces to be performed is "You Can't Stop the Beat" from "Hairspray," which Ehling is most eager to showcase.
"Everyone has so much fun with it," Ehling said. "It's easy to see that a lot of people really know a lot of the songs to begin with, so I feel like we are very prepared for this show."
According to Ehling, the choir will perform this last show more comfortably, considering its members have had all year to become acquainted with each other.
"I think I'm going to enjoy the spring show more than the fall because everyone is more aware of one another. We know how to jell," Ehling said. "I think this concert will be a lot more fun compared the other ones. I think it's a beautiful way to end the year."
As she crosses the finish line after seven years of being in choir, Mulliqi sees the show as a benchmark in her high school career.
"It'll be a memory just like prom or graduation," Mulliqi said. "I've spent all of these years creating some of the best friendships I've ever had. I'll always cherish this show simply because I get to do something I've always loved with about 120 students I've had the chance love."