Mr. AVID: Samer Amous
Q: What are your qualifications or talents to become Mr. Plano?
A: I think people wanted me to do this because I'm an all around decent human being, I try to participate in as many extracurriculars as I can, from StuCo to AVID, and even out of school I'm an active member of the youth group at my mosque and I go do North Texas Food Bank to give my time. I try to do as much as I can.
Q: Who is your real life super hero?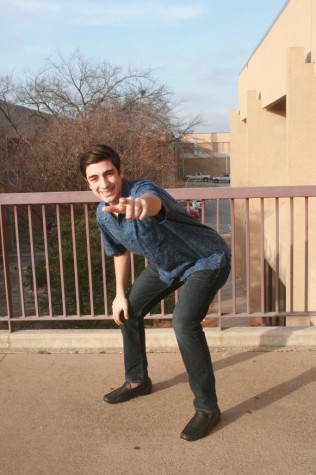 A: There's two. One of them is not that known, Sal Khan. He's the creator of Khan Academy, and it's this website that helps out with homework and what-not. He doesn't just do that, he does a whole bunch of other stuff with helping out children learning information. That's a really cool thing that I'd like to be able to do one day. I want to be able to help others learn, whether it's something simple like adding, or something a lot more complex, like filling out taxes. The other one is somebody that I might get some heat for, Malcolm X. He was a revolutionary leader who went against the grain with everything that he did. It's something that I'd like to strive to do as a leader, go against the grain and do something that not many people would want to do, but it ends well.
Q: If you could only have one food for the rest of your life, what would you choose?
A: That's intense. It's an Arab food. Shawrama. It's basically a sandwich of chicken, it has humus in it and pickles, onions. I'm not doing it justice, but it's a really, really good sandwich.
Q: What was the most terrifying moment of your life?
A: Once I was overseas, I went to Palestine, and that place isn't known to be the most peaceful place on earth. My aunts live there in the old house that my dad grew up in. They always told me never to go out unless I have my papers with me, like my passport and Visa and what not. One time, I just left because I was bored, and I didn't bring any of my papers, and the Israeli army pulled me over and I had like eight guys pointing automatic weapons at my face, asking where I was from. They were yelling at me in Hebrew, I had no idea what I was doing, so I just almost cried. I basically did cry. And then I started yelling, "I'm American, I'm American!" and they were like "Oh, you're American? You're my best friend. Alright, come over here." It was really intense. I was looking down the barrel of an automatic weapon that was being pointed at me by random men. I was in middle school, 6th grade. It was the first time I went overseas.
Q: If you could choose one person from history and have them truthfully answer one question, who would you choose and what would you ask them?
A: That's a really hard one. This is going to be very controversial and people will probably get mad, but I'm going to ask President Bush what really happened on 9/11. I want to know what legitimately went down.