Mr. StuCo: Hudson Kuykendall
Q: What qualifications or talents do you have? What do you do?

A: I can play guitar, juggle, I can sing… It's not too good, but I can! I can rap, dance.
Q: What are you most looking forward to for the competition?
A: Being able to have fun. I actually organized it last year for Student Congress, so I really know what goes into it. It's a fun experience over all. Also, the part where we have to raise money for a certain charity. I don't know exactly what charity I'm going for, but just the opportunity to be able to help others while having fun. I'm looking forward to that.
Q: Do you like to read?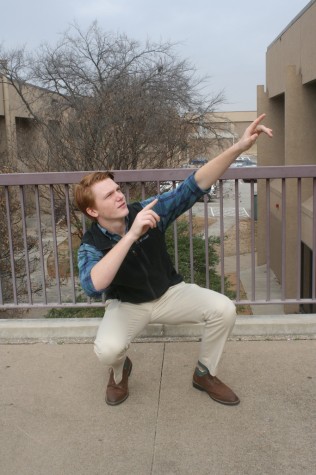 A: I scroll through Twitter a lot, so I read other people's thoughts… I like the Bible a lot. I read that a lot, I'm a follower of Christ.
Q: What are your favorite sports?
A: Baseball is my number one. Football, I love to do pickup games. Basketball, I'm not too coordinated as far as dribbling the ball, but if you pass it to me right when I'm under the rim, I can do a really sick layup.
Q: If you had to be stuck in a TV show or one week, which would you choose?
A: That's hard. Probably the Big Bang Theory. Women love intelligence, and I could probably gain a few big words that would impress the ladies.
Q: What was the most terrifying moment of your life?
A: I was on the way to a Boy Scout meeting, and my mom left me outside of the car, and I was trying to chase her down as she drove off without me. She got all the way to my school without noticing that I wasn't in the car, and I was running down Parker when she found me.
Q: If you could choose one person from history and have them answer any question truthfully, who would you choose and what would you ask?
A: I would honestly choose Ronald Reagan. He's one of my all time favorite presidents behind George W. Bush. I'd probably ask him he did to get to where he was. One of the things that I do want to do is possibly go into politics, and I do love his policies and how he kind of got our foreign policy up and running in the '80s.