5 Seconds of Summer – She Looks so Perfect EP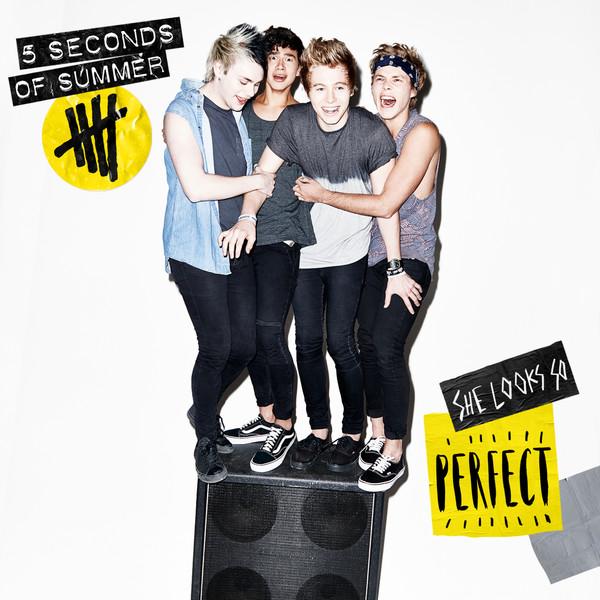 5 Seconds of Summer are an Australian based band signed to Capitol Records. The band consists of Ashton Irwin, Calum Hood, Luke Hemmings and Michael Clifford. Mostly known for being the opening act for One Direction since last year's worldwide tour, their fame blew up. It is also scheduled for the band to open for One Direction once again during the summer stadium tour, coming to Dallas Aug. 24 at AT&T stadium.  Now the band is trying to branch out, releasing their second EP titled "She Looks so Perfect" after the single.
The band stays true to their rock roots throughout the EP. All the tracks are guitar and drum heavy. The EP leaves listeners wanting more, even though it contains only four songs.
"She Looks so Perfect" is the first track on the EP and the single. It is comprised of catchy lyrics, showing off their songwriting skills and a consistent upbeat tempo all the way throughout the song. Luke's vocals lead the song, but are perfectly backed-up by Calum and Michael's voices. The song is a little repetitive at times  with the main chorus sung four times, becoming slightly irritating.
"Heartache on the Big Screen" is the second track. It is one long metaphor, relating a bad movie to a breakup or heartaches, as the title suggests. Their storytelling skills are used all the way throughout the song, keeping the listener engaged.  The song also keeps the upbeat tempo and catchy lyric from the previous track.
 "The Only Reason" is the third song on the EP. This song shows the band's ability to play a ballad. It is about falling in love with girls that they can never have. They band mixes guitar and drums well with a slow tempo.
The last song is a cover of "What I Like About You" by The Romantics. However, 5 Seconds of Summer turn this pop song into a rock song, using harmonizing grungy voices to emphasize certain words, high pitched guitar notes and drum solos.
Overall, the band has some work to do on their songwriting skills and with trying to differentiate the style of their songs. Next time they should add songs about diverse topics, rather than just girls and love. More ballads would be nice also – something to balance out the upbeat songs.
However, for a band that has been together for only three years, they are doing pretty well. Their fan base is growing and the band has announced a U.S. tour. They are coming to Dallas on April 15th at the House of Blues. The EP will officially be out in the United States on April 1st on iTunes; it is already out everywhere else. The band has great potential and should continue the great work.
7/10
Leave a Comment