Orchestra to hold winter concert Dec. 7
Orchestra will hold their annual winter concert in the gym on Sunday, Dec. 7 at 5 p.m. The feeder middle and junior high schools will be joining them to present a Christmas-themed show to the audience.
"The show will be filled with a lot of Christmas cheer," junior cellist Margaux Pernin said. "It's going to be really fun. I think the show will be really interesting and I encourage people to come."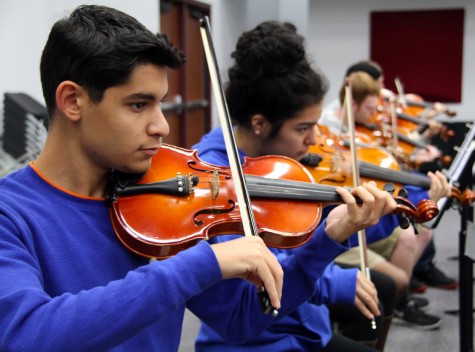 Orchestra will follow a festive theme, playing songs such as "White Christmas," "Charlie Brown Christmas," "Sleigh Ride" and much more.
"We're playing traditional Christmas music for the most part," Pernin said. "Come see the show to find out the rest."
Junior Haley Reese found time to practice outside of class for 30 minutes a day, 4 days a week for the upcoming concert.
"For the most part, I practice in class," Reese said. "But practicing outside of class isn't as bad as it seems once you get the hang of it."
Students have to be in uniform for the show, meaning girls wear black dresses while male students wear suits.
"We wear the traditional orchestra outfits while the other high schools are casual," Reese said. "It may not seem that ideal, but I don't have to worry about picking anything out."
Pernin said the orchestra has been working hard to make the show enjoyable and put people in the Christmas spirit.
"I'm really excited because Christmas is fun, orchestra is fun and the music is going to get the audience excited for Christmas," Pernin said. "That's why I encourage people to come see the show."