Planoettes prepare for competition season
Maggie Cross, Staff Writer & Featured Columnist
February 3, 2015
As soon as football season ends, the Planoettes start getting ready for the competitions coming up and the tryouts for next year's spots. With countless hours of practice, many of the members consider this the most stressful time of year for drill-team.
Junior Ariel Fuchs went through the tryouts last year to receive her title as Junior Lieutenant, the highest ranking a junior can achieve. Fuchs plans on trying out for a senior officer position on Feb. 27, which has more requirements than regular team tryouts, including 50-hours of community service, an original solo dance and an interview. There is also a team vote for captain — the highest position on Planoettes.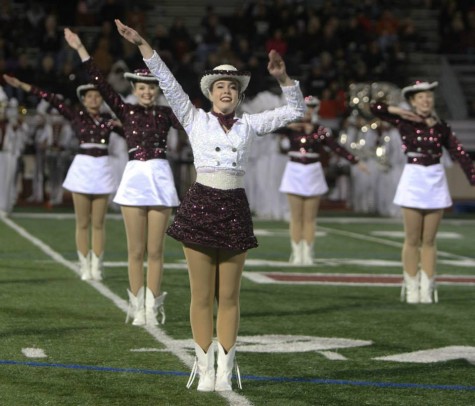 "There's a lot to do," Fuchs said. "But it's not that bad, it's fun when there are things to keep you busy."
This year, Fuchs will learn and perfect 13 dances. She will be using the same solo for competition as she is using for her officer tryout. The team's regional competition is Feb. 21.
"It's super busy," Fuchs said. "We are definitely kept busy throughout the whole season. It's fun though, you just have to manage your time well."
Senior Lieutenant Allison Cannon said that this is a stressful time of year for Planoettes, especially for those who are trying out for an officer position.
"The first time I got nervous was when I got the officer packet," Cannon said. "But it was a really good experience."
Last year's competition team became National Champions after winning first place last April in The American Dance/Drill-Team Competition. Cannon said she hopes that the result this year will be the same. The girls will be competing in the Super-team division with other teams containing sixty or more girls.
"I think that we are ready," Cannon said. "I really hope that we win again because it'll be cool to win our senior year and end on a good note." 
"
I feel like we are in the big leagues now. We made it."
— Midori Anderson, junior
Juniors don't have to re-tryout for drill-team unless they failed a class during first semester or received too many demerits, which they get for forgetting clothes or showing up late for practice. If a junior member wants to be an officer, on an elite team or earn titles such as "Miss Drill-Team," which junior Midori Anderson plans on trying out for this year, she must re-tryout. Anderson said that this time of year is crunch time for drill team.
"It's hectic because we just learned our first dance, then we go on break," Anderson said. "I'm just hoping I won't forget it."
According to Anderson, it is a little nerve-wracking getting ready for competition, but it is something to look forward to as well.
"I'm excited for the experience," Anderson said. "I feel like we are in the big leagues now. We made it."