Building D is for Dean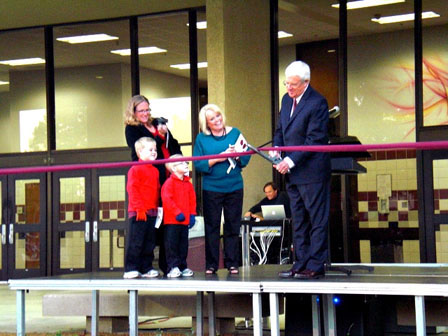 Building D has been reborn as the new Doyle Dean Performing Arts Center. On Thursday, Nov. 3, the new facility was formally unveiled with a ribbon cutting ceremony in front of the pond. Then the guests headed inside the performing arts center for the dedication service. The Symphony Orchestra and the Grand Chorus collaborated to perform a tribute to Dr. Dean. Audience members sang along and waved their paws during the fight song, and after speeches from principal Sarah Watkins, choir vice president Cameron Meyers, and the guest of honor himself, a reception was held in the band ensemble room. Afterwards, actors, dancers, and music theory students gave guests tours of the building. Outside, the maroon letters of the building's new name were illuminated brightly.
     Dr. Dean first joined PISD in 1964 as a math teacher at Bowman Middle School. Before he became principal of Plano Senior, he contributed through several administrative positions, including assistant principal and curriculum coordinator. In 1986 he became principal, a position which he held until he retired in June 2010. Having served for 45 years, he is the district's longest-serving employee. He is a legend, according to counselor Junie Jones.
     "I would be surprised if someone didn't know him," Jones said. "I admire the ability he had to know students, even in a school this big. He knew more students than I did. And he always made every teacher and every department feel like they were the most important."
     French teacher Jody Lubbers said she remembers that Dr. Dean was always extremely helpful, regardless of what position he held.            
     "His door was always open," Lubbers said. "I admire his honesty, integrity, intellect and connection to kids. He was very good at what he did, but he was still very people-oriented. I admire his ability to work with everybody."
     Principal Sarah Watkins worked closely with Dr. Dean as an English teacher at Plano from 1993 to 1998 and then as curriculum principal from 2001 to 2008.
     "I was two doors down from him," Watkins said. "He was a firm believer in academics, and he had that kind of clear-headed thinking math mind. I probably [most] admire that laser-like focus. He's really good at being able to see things clearly and knowing what to do about it. And he put in a lot of hours here."        
     As principal, he continued to help enrich the lives of students and ensure that students had plenty of educational opportunities.
     "He was very supportive of any effort that we took," Lubbers said. "When we did contests and needed money, he was always right there, giving us permission."
     Lubbers said she believes the dedication of Building D to Dr. Dean is a fitting tribute for the many years he has spent at Plano.
     "I think it's marvelous because he is a Wildcat through and through," Lubbers said. "He's one of the giants of Plano, he really is."
     Jones thinks that the effect that Dr. Dean has had as principal will remain on campus for many years to come, just as the Doyle Dean Performing Arts Center will.
     "He really set Plano up for the long haul," Jones said. "Plano doesn't stop at Dr. Dean [retiring]. Mrs. Watkins is able to make her own mark."
     Dr. Dean was "very honored" that Plano decided to name a building after him.
     "Of course, I love Plano Senior High School," Dr. Dean said. "I would tell [future Wildcats] the same thing that I have told them throughout my career. Work hard in school, but you also balance that by having other interests, not just academics, but do other things. Be involved in music, like band, or athletics, or scouting, but do something other than academics. It's important to have a balanced program."