St. Andrew United Methodist Church holds eighth annual prom closet
    This year marks the eighth annual hosting of the St. Andrew United Methodist Church's Prom Closet, which gave over 840 dresses to high school girls across North Texas, will be open Mar. 1-3 and 5.
    Devra Helffrich is part of the event's coordinating committee, which has been comprised of women from the community since its inception in 2009.
    "Although we live in an affluent area, the economy in 2009 prevented some girls from affording a prom dress," Helffrich said.
    The prom closet reaches an audience of girls ranging from those in North Texas to the neighboring states of Oklahoma and Arkansas.
    "We promote the prom closet through contacting high schools and their counselors," Helffrich said. "The media usually picks up on it and promotes it as well."
    Only 30 girls were served during the prom closet's initial year, but the numbers have been rising since then.  
    "We had to move to a new room in the church, since we were growing so big," Helffrich said. "Every year we've added something different. This year, we're adding six more dressing rooms for a total of 25."
    It takes a year's worth of preparations to make the prom closet happen. According to Nancy Adams, a prom closet volunteer, the committee receives donations year round from all over the metroplex.
    "The whole community has donated," Adams said. "We also have a closed circuit of retail groups from Dallas. Plano's Stardust and Versona have also donated jewelry to us."
    The prom closet has been able to expand online and reach out beyond Texas with the help of volunteer Laura Stengle.
    "We now have an Amazon Wish List, which has been successful," Stengle said. "Our donations are plentiful, and we've even had a dress donated from Michigan. Everything has to be planned out, it's more like running a business at this point."
    The dresses offered by the prom closet are free, along with the shoes and accessories. However, the shopper attending the prom closet must be present in order to get a dress.
    "It's a first come, first serve basis," Helffrich said. "Last year we had some girls wait in line for an hour on our first shopping day. We receive donations throughout the time the closet is open, so it's very rare for a girl not to find a dress."
    The prom closet provides more than an opportunity for girls to get the prom they hoped for, it also gives the community an opportunity to bond.
    "It's wonderful to see the whole community come together and help the girls," Adams said. "It's really rewarding to see a need out there and to see people fulfilling that need."   
    The women involved with the coordination of the prom closet believe that the prom experience is one of the highlights of a girl's high school years.
    "There's only one prom in every girl's life," Helffrich said. "To be a part of that is very heartwarming. All the work that goes into it is worth it."
St. Andrew United Methodist Church is located at 5801 W. Plano Parkway, Plano, TX  75093, at the corner of Mira Vista and Plano Parkway. The hours of operation for the prom closet are as follows:
Tuesday, March 1  |  4:00 p.m. to 8:00 p.m.
Wednesday, March 2  |  4:00 p.m. to 8:00 p.m.
Thursday, March 3  |  4:00 p.m. to 8:00 p.m.
Saturday, March 5  |  9:00 a.m. to Noon 
Leave a Comment
Your donation will support the student journalists of Plano Senior High School. Your contribution will allow us to purchase equipment and cover our annual website hosting costs.
About the Contributor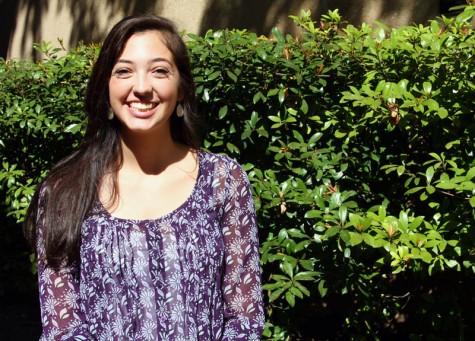 Mari Brown, Staff Writer
For as long as Mari can remember she wanted to write and major in journalism.  Her love for writing started young and is one of the things she can do...