A new home: foreign exchange student from Norway comes to Plano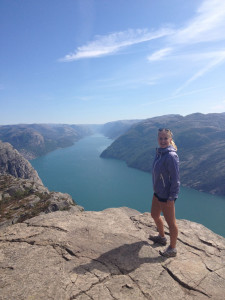 The first day of school means rushing to find class before the bell rings, but junior Karoline Hatletvedt has additional stress because the first day means coming to a new school in a new country where the language, culture and people are completely different.
After hearing that her mother had been a nanny in America when she was 19, and the child her mother had looked after lived in Plano, Hatletvedt took the opportunity to come here as an exchange student.
"I wanted to experience a new culture and learn English fluently," Hatletvedt said. "English is my second language. I learned English a little bit in school but wanted to do better."
Even though she was new, she said the students made her feel welcome. PALS introduced Hatletvedt to the school during cat camp and she said they made a good impression on her.
"It was a new place and I didn't know a lot of people," Hatletvedt said. "But people were very open and nice to me. They asked me to join them so it wasn't hard to make new friends."
Although making friends wasn't an issue, there were still challenges that Hatletvedt faced. Not knowing the language or the school made the first day of school a struggle.
"It was exciting and scary at the same time," Hatletvedt said. "It's a really big school so it was kind of hard the first week to figure out where I was supposed to go. I also didn't know how the school system worked here. But I have adjusted well."
Hatletvedt joined cross country and has made friends, but one thing that really took some getting used to was the weather.
"I remember when I was in Norway I didn't like when it was minus 5 outside, and so it's a big difference when it's like 100," Hatletvedt said. "But I wanted to go to the heat and be away from the cold."
Hatletvedt is from Stavanger, Norway a city where, the temperature rarely rises above 80 in the summer, but can drop to below zero during the winter.
"We don't have dress codes in Norway," Hatletvedt said. "But that's probably because it's too cold to wear shorts and tank tops and stuff. So that's a big difference."
According to Hatletvedt, that isn't the only thing that's different. Students in Norway are not always as spirited.
"We don't have school spirit because we don't have any school teams," Hatletvedt said. "We do sports related activites on community teams. It's really cool that Plano has school spirit."
Hatletvedt said that Plano's spirit is the best thing about the school. She got to experience it firsthand when she went to her first football game in Lewisville with her friends seniors Claire Fuoss and Keri Lager.
"She had a really good time doing the cheers," Fuoss said. "I've never met anyone who has never been to a football game before so it was cool to get to share that experience with her."
Hatletvedt said that the game was great and that she had a lot of fun.
"She was pretty excited to be there," Lager said. "She was asking questions about the game and taking a lot of pictures to send to her friends in Norway. It was very cool to teach someone from another country how much we love our school and how much tradition Plano has."
The football game was one tradition that Hatletvedt said she was glad to have been a part of.
"I liked it a lot because we don't have football, drill team or cheerleaders in Norway," Hatletvedt said. "It was a totally new experience for me."
Even though it's only been a few weeks since the start of school, Hatletvedt said her time has been nice so far.
"I have had a really good impression of Plano," Hatletvedt said. "PALS was really welcoming and I met a lot of nice people. I'm also really happy with my teachers."
There are a lot of activities to be happy about according to Hatletvedt. Some of Plano's most lively events aren't found in places like Norway, so Hatletvedt said she is ready to participate.
"I get to do a lot of new things that I've never done before, so that's really exciting," Hatletvedt said.  "I'm most excited about homecoming, Thanksgiving, and prom. It will all be new for me."