Building for the better: Habitat for Humanity hosts annual coin drive
Maggie Cross, Staff Writer & Featured Columnist
November 30, 2014
Spare change can make all the difference in sheltering fellow Plano citizens thanks to Habitat for Humanity. The organization's annual coin drive for building homes for the homeless in Plano started in early November and ends Dec. 3.
Other schools throughout Collin County are also part of this project, with officers from each school meeting monthly. The school's chapter is currently trying to meet its goal of $3000, with the total goal from all participating schools being $70,000. Co-presidents of this year's Habitat for Humanity are seniors Marylin Cai and Jenna McGuffey. The school's chapter sports only 90 members while Plano West, in contrast, has 300 members.
"We have a little less than last year," McGuffey said. "But we are hoping that more people participate."
Even with less members, Habitat for Humanity is still expecting to meet their fundraising goal with flying colors. McGuffey said it depends on the student body to fund this project.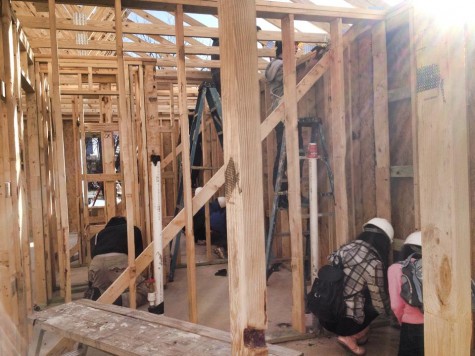 "Even with just a dollar from everybody, we would reach our goal," McGuffey said.
Cai set the individual goal for the members as collecting $25 each. Cai believes it should be easy to get spare change for many students across the campus.
"There is an envelope and we just ask people to donate change," Cai said. "Anything could make a difference."
The coins collected will be used to buy tools and materials for the chapter's upcoming build. According to McGuffey, last year's build was an amazing experience and the family they built for was beyond grateful.
"There are several thousand families just in Plano that don't have homes or have low rent apartments," McGuffey said. "This year we are building a house for a really cute Ethiopian family."
During the fall semester, Habitat for Humanity raises funds for the build through the coin drive and other small projects such as a bake sale. The spring semester focuses on the build and putting the members to work. Vice president senior Katherine Wu said that with the limited help from professionals, it's mostly a members-only project.
"The majority of the work is from us," Wu said. "We do the physical labor, and the professionals train you there, though you get trained by doing the work."
Junior Kimberly Burson is new to the Habitat for Humanity organization. Burson is looking forward to raising funds for this year's project.
"I'm really excited, because if you raise the most, you get the higher priorities to build the houses," Burson said.
According to Burson, joining the organization was a good opportunity to get involved in the school and community.
"I joined Habitat for Humanity because I wanted to be a bigger part of the school," Burson said. "I'm excited to be able to impact this family's lives and be able to contribute to their new house."