Father and son create Pokémon Club
On the last Wednesday of every month, over 50 students fill two combined rooms to talk about and play Pokémon. Life-long fan and Pokémon club president junior Mark Yee creates every tournament and t-shirt.
"It takes a lot of planning," Mark said. "More than people would think."
Part of the reason the club requires intensive planning is because so many people are a part of it. Even some graduates returned to join in.
"In Pokémon club, you don't do work, or try to look good for college," Mark said. "It's one of the only clubs where you just have fun."
Because most of the Pokémon fans are also fans of the video games, they spend the majority of the club meeting playing video games together. During tournaments, members form teams and play against each other. At the next meeting, Mark said his father, math teacher and sponsor of the club, Bryan Yee, plans to join in on the game.
"My dad's just doing it because of me," Mark said. "If someone else wants to take over they're going to have to find someone else to sponsor it, because he's not doing it after I leave."
Bryan has contributed by getting companies such as Game Stop, Sonic and RaceTrac to sponsor the club as well.
"My dad's really good at negotiating," Mark said. "He got Game Stop to give us the leftover posters from people who preordered games. Sonic gave us free drink coupons. RaceTrac gives us free stuff too. My dad can do whatever."
By sponsoring the club, Bryan supports his son's passion for Pokémon.
"I don't know anyone who likes it more than me," Mark said. "It's in my top five priorities. Religion, family, friends, survival – and Pokémon."
Pokémon is a strategy game. A skilled player knows specific things about individual characters and what they can do, according to Mark.
"Pokémon is really complicated if you want to get into it," Mark said. "If you want to get over-competitive, you can just research all the possible things, but I make combinations that no one else uses. There is a website with a bunch of strategies that I don't use. I just make my own because I can."
Because he takes mostly honors classes, Mark must balance the game with his schoolwork.
"It just takes over everything outside of my classes," Yee said. "Well, it depends on which class. In graphic design I'm already on the computer…"
Mark does not spend all his free time playing Pokémon by himself. Most of his friends play it too.
"My closest friends are the biggest Pokémon fans," Mark said. "I don't know if that's because they're my friends or if we are friends because of that."
Recently inspired by the Pokémon society, Mark made a video titled "Pokémon Master Advice – How to Get Girls to Like You."* He saw a Pokémon love poem that had the facts wrong, and he said he succeeded in creating a better one that he based his video off of. However, he does not have a girlfriend himself.
"If I found a girl who could beat me in Pokémon, I would immediately ask her out," Mark said in the video.
It was filmed with Mark wearing the same Pikachu shirt he wore for his school yearbook photo.
"It's what I want to be remembered for," Mark said.
*http://www.youtube.com/watch?v=xcrMLCLtHhl&feature=youtube_gdata_player
Leave a Comment
Your donation will support the student journalists of Plano Senior High School. Your contribution will allow us to purchase equipment and cover our annual website hosting costs.
About the Contributor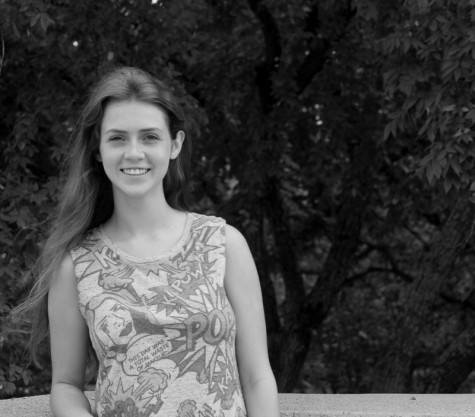 Ashley Stuber, Arts & Entertainment Editor
Senior Ashley Stuber serves as the Arts & Entertainment editor for the Wildcat Tales.