"Insurgent" pleasing for movie lovers but disappointing for book fans
Maggie Cross, Staff Writer & Featured Columnist
March 23, 2015
Despite the obnoxious middle schoolers giggling behind me the whole time anybody made any sign of affection, seeing "Insurgent," the highly anticipated sequel to "Divergent," was overall a decently okay experience.
Many would compare the "Divergent" trilogy to the series "The Hunger Games," but the second novel "Insurgent" is less driven by a love story and does not feature a love triangle. The film follows the main characters after Tris, Four, Caleb and Peter have left society and taken cover in the Amity region. "Insurgent" is focused on their struggle for survival as fugitives hiding from the oppressive government.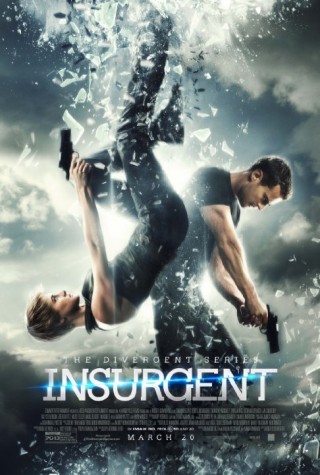 As an avid book reader of to-be movies, the lame 'the book was better than the movie' saying applies yet again to this film, but in a different way than most would expect. Because the movie adaptation of "Divergent" was so infuriatingly different, I didn't anticipate much enthusiasm coming from me while watching the next one in the trilogy. "Insurgent" would have actually been a slightly more pleasing film if I wasn't comparing it to the novels.
If I hadn't read all three books in the trilogy, I might have put this movie towards the top of my list as far as action movies go. Still, the books and the movies are so different from each other — the subtraction of main characters, the addition of random scenes that I did not recall happening, the inclusion of too many clichés and under exaggerations of too many important scenes from the book — that it's hard to not to be at least a little disappointed.
I did catch myself laughing in some scenes, and I also found myself gasping when necessary. If Theo James and Ansel Elgort weren't casted, though, I would've had a harder time resisting the temptation to check Twitter while watching.
Don't get me wrong, it was a good movie, but I would have found it more enjoyable if I wasn't comparing it to the book the whole time. My recommendation — if you haven't read or plan to read Veronica Roth's works, then watch the movies. If you like reading and haven't seen the movies, read the books. I don't recommend doing both simultaneously.