No Shoes Nation Review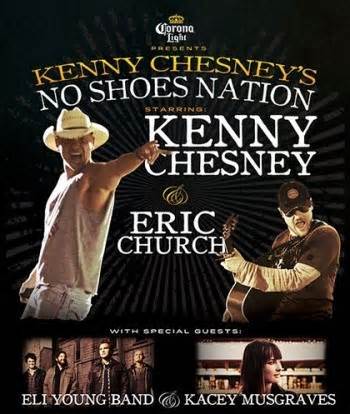 Kenny Chesney performed his "No Shoes Nation" tour at the Dallas Cowboys Stadium this past Saturday night for a nearly sold-out crowd. The show didn't fall short of its hopes to be one of the year's hottest country concerts; it bypassed fans expectations. The concert was opened by the edgy Kacey Musgraves, known for her hit single "Merry-go-round," and was followed by Texas born group, The Eli Young Band. Eric Church was the main opening act who managed to get the crowd pumped up with his life's-a-big-party attitude and aviator sunglasses.
Beach balls were tossed back and forth and pirate flags were raised all throughout the stadium as Chesney walked out on stage beginning his two hour show with his song "Whatever Makes You Feel Like a Rockstar." Chesney sincerely convinced the audience that this show was the show that he had been waiting for all year.
There is no way to avoid the fun when you are surrounded by thousands of fans, dancing and singing along to every Kenny Chesney song imaginable. "No Shoes Nation" was taken literally, with fans throwing off their boots and enjoying the carefree night.
After stealing the show in his classic raggedy pirate shirt, Chesney jumped into fan favorites including "Beer in Mexico," "Reality" and the much anticipated, "Pirate Flag." With Musgraves touring alongside Chesney, fans expected her to come out and sing Grace Potter's part in "You and Tequila" but to much disappointment, Chesney took on the song by himself.
From there on out it was a continuous stream of at least 20 of Chesney's hits, leaving fans satisfied. The mood changed when Chesney performed his 2010 hit, "Somewhere with you." With the night coming to an end, fans were still waiting to hear Chesne'sy classic, "Boys of Fall." Chesney finally sang it as one of the last songs of the night, awestruck by all his fans singing along.
Chesney kept the crowd rowdy and on their feet all night with his high energy songs. He didn't fail to make the night unforgettable. With relatable and catchy songs, Chesney always puts on a show worth seeing. He works the stage like a pro and makes it obvious that he is passionate about his music, his career and his fans. At the end of his show, Chesney left the crowd longing for the sun and sweet tea after preforming his fan-favorite song "Summertime."