Farewell to retiring teachers: Teresa Fresquez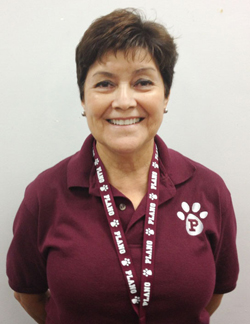 AP Spanish 5 Literature and Spanish 4 teacher Teresa Fresquez will be retiring after nine years at Plano.
     "Basically, there are some changes happening in AP, so I figured if I was thinking of leaving it might be a good time to let the new person kind of get into the changes," Fresquez said. "I thought of that, and I also thought of the time that I've put into education and I figured, 'Well, maybe I'll spend a little more time with the kids, the grandkids, and so on.' And just time for myself, I guess. I'm already missing it. I mean, I don't know any other life other than teaching. It's going to be quite an adjustment, but that's where I'm coming from. I really want to focus on going to my grandkids' schools and helping out. I figured I could stay home and distribute my time."
     When she first came, her job was to kick off the Spanish 5 class. After teaching it for so many years, she has shaped the class to be what it is today. Fresquez said one of her main reasons for retiring is that she thinks it is time for someone new to take over the class. Furthermore, if Fresquez were to stay, she would have to work full-time.
     "I really don't want to go full-time, because I feel like I'm locking myself in, and other plans I have won't fit in," Fresquez said. "So that had a lot to do with my decision. I'm very comfortable with part-time, and I figure full-time is for the young teachers to go for. I know how I'm going to feel if I'm full-time. I'm very comfortable with this, and I want to leave with that thought."
     Fresquez came to Plano from El Paso, where she taught for 31 years. She said coming to Plano, she did not really know what to expect.
     "I've worked in El Paso all my life, and I had never taught so many non-speaking students," Fresquez said. "And I thought, 'Oh my gosh, are they going to understand me? Do they know how I think?' I had all these pre-conceived notions. But, when I came into class, they smiled and I figured, 'Well, I can smile here too'. A lot of people tell me you never smile for so many days when you start teaching. I used to hear that all the time. You have to show them that you're tough. I said, 'How can I not smile? That's me!' So when I came here I figured maybe now was the time not to smile. But that's not me. When I came here, it flowed, and everybody smiled. It was a good welcome. And that's what I remember— having that anxiety. But when I came it was, like, 'Hey, this is home now.'"
     Fresquez said that, in her department, someone is always there to talk to and they all help each other out. She said that is probably going to be the thing she will miss the most after retiring.
     "Mr. Shields is concerned because he's going to have to take over Spanish 5," Fresquez said. "He said, 'I've never taught that before', and I said, 'I hadn't either until I came here.' I've taught literature in general, but not as a class. Some teachers have said it's sad to see me go or whatever, but everything is going to work out. It'll keep flowing, everything is going to be good. I'll be missed at Pizza Fridays."
     Fresquez, who is going to be 65 next year, said that she decided it is time to slow down. However, she doesn't plan on completely taking Plano out of her life. She plans on returning as a substitute, requesting only this school and foreign language classes.
     "Overall, this, to me, is like a little community college campus," Fresquez said. "It's huge, but it's home. It's a big house. My department has a lot to do with it. They're very friendly, they're very open and they're there when you need them. That helped me quite a bit. They were my anchor at the beginning because I didn't know anybody here. We are a family. That tree? That family tree? I get it now."