Periodic Performances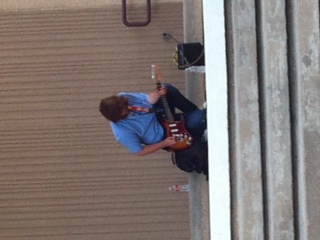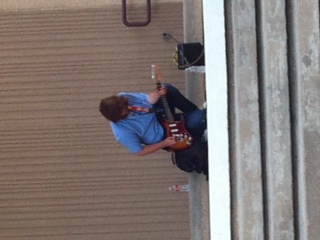 Every morning, senior Joshua Fox wakes up at 6:45 and skips breakfast in order to arrive at school by 8:20, sometimes with his hair still wet. He climbs up the stairs next to the cafeteria and plugs his amp in, preparing to play his music for the entire student body – whether or not they want to hear it.
Ironically, the person who most students have seen playing the guitar is not in guitar club. Despite history teacher and guitar club supervisor Joseph Snider's attempts, Fox refuses to join.
"He's free spirited," Snider said. "But we could help him grow in an artistic manner."
Snider said he will continue to try to persuade Fox into getting involved in the musical community. However, Fox said he is rejecting the idea based on both time conflicts and differences in musical style.
"I don't care about structure," Fox said. "I'm more interested in the inner workings of sound than the music itself."
Although he has a separate music room at home, Fox continuously uses the school's steps as his venue for playing in order to gain experience in front of crowds. He said he finds the school steps a more relaxing stage than official recitals.
"During my first show, I was playing with a friend," Fox said. "When I started singing my friend just laughed at me in front of everyone. It was really embarrassing. But if I'm going to play, I need to know how to react in front of a crowd."
Because of this experience, Fox said he does not focus much on singing. In his new album, he said he plans to find girls to sing because of his lack of vocal talent. However, he intends to play all the music himself in order to remain mostly independent.
"Some people turn their noses up at synthesizers because they say it's not real music," Fox said. "But as you progress, you learn the limitations of just using guitar sounds."
Because of electronic synthesizers and sound modulators, Fox is able to create his own music without depending on other players to show up and cooperate, which he said was a problem when he previously attempted to form a band.
"After I played for three or four years, I got bored of just playing and started wanting to see what I can change," Fox said.
In the near future, Fox said he plans on bringing a recently acquired peddle to school in order to modulate the sound of his guitar in new ways. Since he plays during the time leading up to his first period, senior Iza Gomez, who is in class during zero hour, said Fox's playing disrupts her class.
"It's really annoying," Gomez said. "I can hear him from all the way across the school."
Even his father occasionally tells him to turn the volume down, Fox said. However, he said he does not take other people's opinions into account when he is performing.
"I don't notice people watching," Fox said. "But if I had a whole group of people say they didn't like it, I'd probably still keep playing."
Fox said he believes some people won't like his music because it is different from traditional playing in that he uses electronics to change the sound.
"People feel more comfortable with normal and simple," Fox said. "But I don't like simple. I like getting experimental."
Although he plays his music for the whole student body, Fox said he does not think anyone pays much attention to him.
"If someone cares to listen, they can," Fox said. "If not, they can walk away."