Mr. Plano recap
The annual Mr. Plano pageant took place on Saturday, Feb. 13, with 12 male seniors representing various clubs as they vied for the title of Mr. Plano.
Each contestant participated in a personality Q&A, talent performance and a style segment, with each contributing to the entertaining nature of the show. Plano alums Hudson Kuykendall and Sayeef Huq emceed the show. Seated in the rear of the theater, a panel of judges scored each contestant with an overall winner announced at the show's conclusion.
Beginning with an upbeat dance number choreographed by the Planoettes, the competition had contestants show off their impressive dance skills. The energetic routine provided an accurate preview for what the rest of the show had to offer.
The introduction of the contestants began with Broden Rast, Mr. PALS, as he appeared sporting a light blue suit while describing what his ideal first date would be. For the talent section, he performed a hilarious rendition of Jimmy Fallon's "Tight Pants" sketch. Rast then surprised the audience with a skillful performance on the bagpipes while decked out in plaid.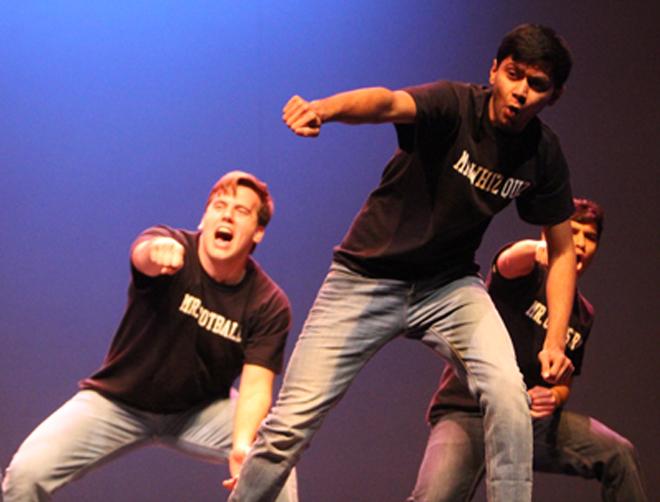 Next came Mr. Orchestra, Amin Golnabi, presenting himself as Aladdin on his magic carpet. His introduction featured several references to Eminem's song "Lose Yourself," which then continued into his talent performance. Golnabi referred to current events by mocking the stereotype that all members of his race are "terrorists."   
Mr. Whiz Quiz, Arpit Dua, introduced himself as "a normal guy," without an extravagant costume, to the Beyoncé song "All the Single Ladies." Dua took a unique approach by performing a stand-up comedy routine for his talent portion, a departure from most of the other acts.

Mr. Football, Conley McCabe, was consistently one of the most memorable acts throughout the show. He introduced himself as animal expert Steve Irwin wrestling a floatie crocodile, then provided witty answers to a series of Hunger Games-themed questions regarding his fellow contestants. His dynamic lip sync during the talent portion displayed his ability to command the stage well throughout the montage of songs. McCabe closed his performance in the style portion with a final reference to his friendship with Mr. FCA, Matthew Keys, as the two combined for a cutesy couple pose.
Mr. Key Club, Jeffrey Kim, presented himself as a pizza lover with a strong social media presence, while taking an impromptu selfie with the audience to post online. Kim provided the "Keys to Success to Rapping" in a video for his talent. Following the video, he emerged from the crowd and gave his own rendition of the "Ice, Ice Baby" by Vanilla Ice.
Mr. Baseball, A.J. Liu, hoping to continue the legacy of last year's Mr. Baseball and Mr. Plano winner Mitchell Hansen, pleased the crowd with his performance. A hilarious skit involving his ethnicity and traditional eastern asian clothing was a strong opening for Liu. He went on to perform a choreographed routine on a hoverboard to a mashup of well known songs for his talent. It was one of the most hysterical moments of the night. Liu was voted Mr. People's Choice and finished as first runner-up in the competition.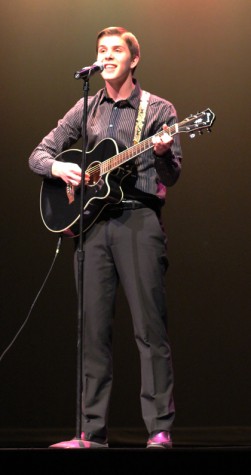 Mr. Choir, Bryce Baumann, relied heavily on his well-known "Father B" persona throughout the show. His costume for the personality section was priest attire. His talent was a simple, but impressive, selection of songs that he sang while playing the guitar.  
Mr. FCA, Matthew Keys, emerged as a rebellious teenager misunderstood by society, a rather unexpected and unique persona. For the talent portion, Keys offered yet another distinctive twist, wearing cutoff shorts along with senior Spencer Tripp. Together, they made up the rap duo Prison Squad. The pair performed Green Eggs and Ham by Dr. Seuss sensationally. His masterful presentations on the stage won over the judges and earned Keys the 2016 Mr. Plano title.
Mr. DFC, Hieuy Nguyen, came out on stage in a Pikachu onesie and his performance featured a combination of his many talents. Nguyen created a unique aura with his performance by featuring his martial arts and dance skills.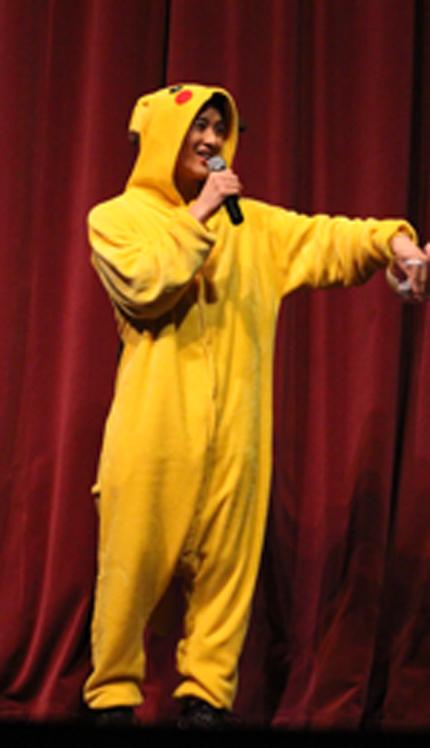 Mr. BPA, Ariea Bastami, incorporated his fellow Mr. Plano contestants in a video showcasing his preparation for the competition. The fun and engaging nature of the video served Bastami well, as he earned the title of Mr. Congeniality, voted on by his fellow Mr. Plano contestants.  
Mr. StuCo, Saarem Azmat, appeared as Russell from the movie Up. With several balloons attached to his backpack, he provided his own rendition of the search for Kevin the bird. His later performance showcased his talents from color guard in a beautiful and heartfelt performance about combating bullying. To top off his act, he modeled a sparkly silver tuxedo jacket for the style portion, one last representation of his glittering personality.
Mr. Track, Alex Kingsley, played the stereotypical surfer dude, emphasized by his flowy, golden locks. It became the basis of his stage act, as well as the one distinct attribute for his talent performance. While on the electric guitar, Kingsley and three friends performed a Journey tribute with "Don't Stop Believing," a great way to cap the talent section for the contestants.
The performances were extraordinary to say the least and those who won were definitely well-deserving of their crowns, but all the acts had something unique to bring to the show. Overall, Mr. Plano 2016 was definitely one to remember.
Leave a Comment
About the Contributor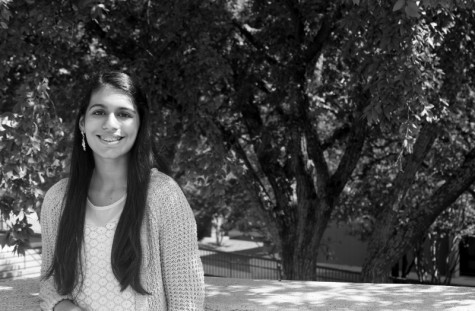 Suhina Chopra, Staff Writer
Junior Suhina Chopra is a newcomer to newspaper this year. She joined newspaper because she wanted to try something new, something that was unlike everything...