Modern Family season premiere review
After being on hiatus for four months, Modern Family kicked off its fifth season with a one-hour special premiere – delivering two fantastic episodes in one night. The first episode, "Suddenly, Last Summer", carried a strong romantic tone. While one married couple was moving around their children's summer commitments so they could have a week to themselves, another couple was planning to propose to each other in celebration of the California Supreme Court ruling in favor of gay marriage and the oldest couple was seeing their son off to Colombia for the summer.
To prevent a love overdose, the writers of Modern Family, Christopher Lloyd and Steven Levitan, threw in frequent comedic distractions. It worked well and I was not at all bothered by the strong romantic overtones. I constantly found myself literally laughing out loud, which is fairly uncommon for me when watching television.
My biggest concern was that the actors would be out of practice. I was worried they would be a little rusty and maybe unable to channel their characters well, but they were flawless. They portrayed their characters perfectly, without appearing lifeless or overdoing it. Each have such unique characters with very interesting personalities, which can be easy to exaggerate. The former stay-at-home mom, played by actress Julie Bowen, is a little crazy without being utterly insane by showing other components of her attitude, such as her love for her family and her determination to not be dependent on her husband. Actor Eric Stonestreet, one of the partners in the gay couple, is able to portray his character as flamboyant without being outright feminine by displaying his talent for coaching football. I love that the writers did not restrict their characters to common, and mostly false, stereotypes.
The second episode, "First Days" featured, unsurprisingly, each character's first day – the first day of school, the first day of work and the first day of substitute teaching. This episode was a little dull compared to the previous one, but I was just happy about the two-in-one deal. The theme of firsts was a little redundant and there weren't many comedic intervals.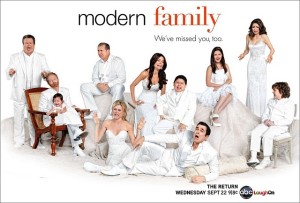 I also found this episode slightly unrealistic. It was the first day of high school for two children and both of their parents were shocked that their kids did not want to be walked to or hugged in front of the school. I understand that sending your kids off to high school is a big step for most parents, but I found their expectations to be a little outdated considering most parents nowadays would be able to predict that exact reaction.
Nonetheless, the episode was touching as usual, seeing as it was about something everyone can relate to – worrying about how others perceive us.
Both episodes accurately illustrated that not everything goes according to plan and that we all screw up sometimes, but we shouldn't worry about it because it almost always turns out okay in the end. Maybe it's better that our plans don't exactly pan out, because if life was free of imperfections, it wouldn't be as fun.
If all of the following episodes plan on addressing serious issues in the same light-hearted and funny way, like these episodes did, I am eager to follow the series that will air this season. There just aren't enough shows out there that simultaneously touch your heart and your funny bone.
You can catch Modern Family every Wednesday night on ABC at 9/8 central.